In the current issue of Organizational Development (Issue 01/19), Oliver Kohne and Doris Wieser discussed the concept of agile change management. What began with software development is finding its imitations in many other management systems – and now also in change management. When I had a discussion regarding organizational projects with colleagues in the project management environment several months ago, a colleague asked me the following (rhetorical) question: "But haven't we already always managed organizational projects agilely"? And perhaps there is indeed a little bit of truth in this quite provocative question. If it entails the sprints in SCRUM, then we use the systematic loops in the systematic organizational development – and both methods have as their goal to quickly learn by doing. It is already clear to me that, firstly, not all change management projects pursue this approach and, secondly, agility is indeed more than only learning iterative loops. Thus, I read the article from Oliver Kohne and Doris Wieser (both come from the SAP environment) with great interest.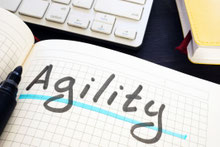 Not everything that we have previously done was or is wrong. Agile change management adds the agile "flavor" to change management. Agile change management is a balancing act between two opposites. Kohne and Wieser initially asked themselves the question regarding what can be derived from the agile manifest (www.agilemanifesto.org) for change management. The answer: In the guiding principles, one finds the fundamental affirmations of change management: (1) Focus on people because tools and methods are merely means to an end; (2) effective change because it entails a solution-oriented approach and not merely PowerPoint presentations; (3) partnership because a successful change project needs, firstly, expertise in change management and, secondly, a deep understanding of the affected organization; and (4) process-orientation because the effectiveness is checked through feedback upon a regular basis. Thus, this alone brings us no new knowledge.
Agility is a concept which entails circumventing increasing uncertainty and complexities. Today, it is an important factor for survival with one's competitors. Even if, as before, there are still change processes which get by without the agile element (e.g. reorganizations, post-merger processes), it is obvious that change processes today require far more agility in order to not only implement change successfully, but rather sustainably. A couple of characteristics of agile change management are of special importance to me: 
Short-cycled rather than long-term: The planning horizon has become substantially shorter due to the dynamic business environment. Only a short-cycled approach makes possible a rapid adaptation to changing framework conditions.
Enable rather than do it oneself: It is repeatedly astounding when external consultants implement change processes whereby they themselves assume primary responsibilities for the management thereof – as if it were their change. However, only the organization itself can change itself; however, in order to do this, support is needed, but the organization's stakeholders themselves must ultimately embark down the path towards change.
Supporting the stability rather than supporting the change: Stability is a required counter-pole of agility and we often forget that change is perceptible only through stability – we can no longer perceive permanent change neuro-biologically as such. Despite all dynamics, we also need time in order to anchor what is new in mind-sets and actions.
From my perspective, in their article, Kohne and Wieser made it very clear that agility is supposed to be no end in itself. Agility is usually equated with speed and flexibility and who would not like to be that? But we may not just blindly embrace this trend. We need an appropriate measure of organizational agility in order to safeguard the future-orientation of a company; and this scope will and must be evaluated differently for each organization.
Conclusion: Firstly, change management does not have to be reinvented in order to become agile and, secondly, change management cannot become limitlessly agile. However, we need a better understanding of what agility can do (and what it cannot do). During times of increasing digital transformation processes, it is necessary to increase flexibility and to also quickly respond to the changing framework conditions. In this regard, a high IT-savviness does not hurt because agility and digitalization often go hand-in-hand. Thus, as is often the case, it entails having more competence in finding the "happy medium" for the individual change of an organization.
---
If you liked this article, then please comment on our Facebook page and I would be very pleased to receive a "Like".