Armin Czeppel aptly describes the pitfalls of self-management in the Organisation Development journal. Based upon his experiences at Robert Bosch GmbH, it appears that the enormous pressure to implement change forces Manager almost overnight to develop themselves from a classical management role into a completely different role. It is not only the case at Bosch that these Managers are in no way prepared for this step – we experience this today at almost all companies. Employees seem to find the initial phase of an agile transformation to be rather easy. The incentives of the new agile world appear at first glance to be very enticing. Only then later do the employees observe that they must also transform themselves because more responsibility also means more obligations. Thus, we must gradually approach this new world from all sides because we can live nothing from today to tomorrow which we don't learn together.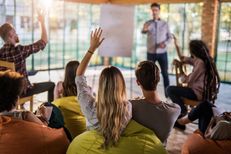 Recently, during a workshop on agility, I thus played delegation poker with employees. The game essentially serves to discuss and try out one of the most important elements of agile management, the delegation of decision-making in a protected environment upon a step-by-step basis. The team was supposed to be empowered, across various stages of delegation, to realise self-organisation and self-responsibility. If previously decisions were made by the Manager – and one could maximally and aptly get excited about this decision-making, the self-organisation by the employee to learn requires making decisions oneself and/or collectively because, on the one hand, the employee experiences a loss of emotional security and, on the other hand, the greater responsibility also produces stress. Thus, clear "game rules" are needed which are fixed in writing at many companies in the form of a charter.
Via the delegation poker, situations can be simulated in order to jointly discuss various perspectives of management and particularly the type of decision-making. Moreover, agility also requires management even if it no longer always has to come from the Manager in the agile world. Today, we understand the concept of "management" in a much broader sense – everybody on the team can be faced with a management situation and this must be learned. Managers from the classical world must begin to understand their new role. What is their function supposed to be in the future if decisions no longer necessarily have to be made by them, but rather by their subordinate employees? What can I allow the team to do and when? What must I still be responsible for myself during the transformation (in my role as a classical Manager)? Coordination and communication forms must be gradually developed and redefined. In this manner, an intensive degree of coaching can certainly be very helpful. But the employees also need this coaching because, to the same extent that Managers are then prepared to abandon their classical function, employees must also (be able) to assume these functions. The slogan which I have always liked the best: "We must develop the employees so that they can think right along". Not everybody can go along on this journey because "thinking along" is not always desired. It requires the courage to accept responsibility which not everybody wants to do.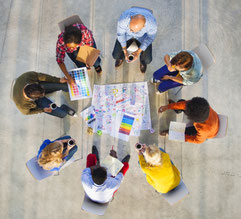 Whenever we transform organisations, then it is always important to ensure that something new supplants something old. Thus, we must also learn to abandon things. Antoine de Saint-Exupéry once said, "Perfection is not then attained if there is nothing more to add, but rather if one can leave out nothing more." Only what can I leave out on the journey to a well-functioning self-management system? Armin Czeppel referred in this regard to classical process-oriented HR tools which oftentimes constitute a hindrance to us on our journey into the agile world. Many agile roles cannot be depicted in HR systems, target goal agreements that must be constantly adjusted are not anticipated and Managers are assigned roles as supervisors which they cannot avoid in the classical world. Thus, we must create more flexibility in order to develop new things. We also need more courage in order to abandon what has been tried-and-tested in the past – which also functioned well in the past and gave us confidence in management. 
We must learn to understand the concept of "management" anew in the agile world, but it would be presumptuous and wrong to believe that we no longer need leadership in agility. Agility needs leadership!
---
If you liked this article, then please comment on our Facebook page and I would be very pleased to receive a "Like".