In previous years, as long as business development was stable and predictable, we often tended in our organization designs towards functional-oriented or customer-oriented organizational approaches. Both approaches have their advantages and disadvantages; in times of rapid business growth periods, growth processes were easier to manage in functional organizations. They are generally more efficient and simple in their power architecture as all power is based on the hierarchy. Over time, many of these organizations lost their customer-orientation and thus customer-oriented approaches seemed to be the solution. While customer satisfaction increases, organizational efficiency suffers as these organizations do not have an adequate focus on process efficiency or standardization. As our business gets more and more complex and interconnected, we are seeking to get the best of both approaches as their matrix organizations become more and more popular.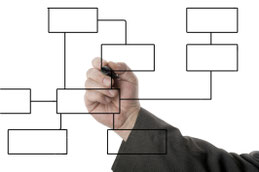 Matrix organizations are the attempt to solve a new problem with some old management tools that have been used for decades, namely hierarchical organizational charts with solid and dotted lines. The result has been overburdened employees who are getting more and more confused and desperate by complying with requirements from multiple "bosses". Both reporting lines have very often been accountable for the same functions such as job assignments, promotions, incentives and business results. As this never works in reality, when we ask the employees, we typically find a "primary" boss and a secondary one in many matrix organizations – they feel "owned" by two competing managers. Sometime it depends on the personalities which are stronger in the power architecture while sometimes it is based on the fact of who is holding the resources and controlling the budget.  Over time, this mismatch of interests leads to frustrations on all levels in the organizations and senior executives are becoming more and more helpless as they try to find the right organizational design for their business. 
In the October 2019 McKinsey Quarterly, Aaron De Smet, Sarah Kleinman, and Kirsten Weerda reflected on the idea of a so-called "helix organization", an organizational approach which is not completely new. It has been around for many years in professional service companies as well as many agile enterprises. In contrast to a traditional matrix approach, the helix organization breaks down the hierarchy into two separate parallel lines of accountability. One line is accountable for the people in the organization – how work gets done – while the other is focused on the business side – what work gets done. Two management lines with clear and separate responsibilities. The employees feel more empowered and supported by two managers (instead of managed by two bosses). One of them is called the "capability leader", the other is called the "value-creation leader".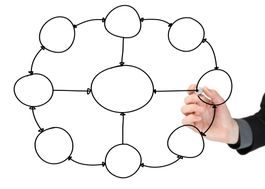 I find this idea to be very interesting as it puts the people in the center of the organization. People make or break organizations and a balance of interests in the organizational design helps to support rather to stress them. As the McKinsey authors state in their article: "The helix organization provides a balance between flexibility and stability that is the hallmark of a truly agile approach". Dotted lines are not necessary in such organizational designs. The capability manager oversees the employee's long-term career path whereas the value-creation manager sets priorities, provides day-to-day oversight and ensures that the employee meets the business objectives. In the helix-designed organization, it is vital that the two leaders are aligned and willing to conduct the employees' performance review as the one will always look at the strategic development while the other will focus on the operational performance. Such clear differentiation of roles and responsibilities on the one hand and cooperation as well as collaboration on people management support on the other hand can be seen in many organizational models such as those which are developed based upon an agile approach.
Moreover, above all, these organizational types are clearly brain-friendlier. It gives the individual more autonomy in his day-to-day actions and does not determine the individual's status in his business functions. The individual career path is supported by two leaders and is therefore more likely to be seen as fair as everybody is still able to do what one likes with one's time. We just have to learn how to provide the people a home base within the organization to which they can relate so that they don't get lost in the dynamics of business changes (which have a constant influence on the ability to adapt the organizational structure of an enterprise). Helix organizations do have the intention of building flexibility in order to help the organization match the pace of external change and innovation as well as provide the possibility to give the people an environment of security in order to develop themselves to a high-performance level. The dynamic business environment will force us to learn from the past, but also to focus on our people and to get more innovation into our organizational design approach. As we should never forget: My people are my power!
---
If you liked this article, then please comment on our Facebook page and I would be very pleased to receive a "Like".