The megatrend of New Work was the epitome of the future of our work and a new culture of people. We believed in a new approach of balancing work and life. In countless communities, forums and conferences, we debated and discussed the opportunities and the risks. We were convinced that the profound economic and cultural revolution will lead us towards a transformation of the work world. The digitalisation, connectivity as well as globalisation and the demographic transformation provide us with no alternative and new technologies, automation and the all-encompassing networking will result in certain professions becoming superfluous. Not everybody was convinced of this: Many people had objections and many a person believed that this megatrend would also soon be over … and then came Corona!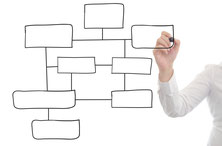 From one day to the next, the Coronavirus has drastically changed our lives. Much that we had previously discussed merely in theory suddenly becomes the reality overnight. Today, we see that numerous organisations, which had already introduced agile working forms during this timeframe, were substantially better able to deal with the crisis. They were able to respond better to the changes because they were able to adapt themselves quickly and flexibly. The crisis showed us how important it is that employees, who are cooperating closely with the customers, can respond at their own responsibility. The long commando lines in hierarchical structures were no longer able to fulfil the requirements of a dynamic environment. Whenever the environmental conditions are changing daily, decisions have to be made quickly. Executives had to give their employees the leeway to make decisions which they oftentimes made themselves before the Corona crisis – and whoever did not do this very quickly perhaps no longer even still exists today.
But after the crisis is neither before the crisis nor during the crisis. If we now believe that we will once again return to the "old" reality, then we have learned precisely just as little as when we now believe we are able to prolong the crisis mode. Agile structures have helped us during the crisis because the environmental conditions have corresponded better to it. To now make agility into a dogma as a reaction in this context would likewise be an incorrect reaction. Thus, the "new" reality will oftentimes demand a completely new design from organisations. 
In a recently-published McKinsey article regarding the theme of "Ready, Set Go: Reinventing the Organisation for Speed in the Post-COVID-19 Era", the factor of speed was emphasised. The need for accelerating decision-making processes was never higher than today. I am convinced that organisations must learn to delegate decision-making to those locations where they can also optimally be decided. We will have to design organisations to be more adaptive which have the ability to respond situationally. Not all decisions are made at the customer interface; strategic decisions are always still the task fulfilled by the top management. In operational decision-making processes, we will once again integrate our partners in a bigger way whereby company boundaries will increasingly be dissolved by so doing.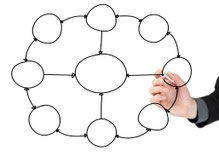 The post-COVID-19 organisational structures will have to be designed to have a hybrid alignment. Those are flat network organisations which are standardised in their network hubs, but form entities which are individually adapted to the environments (customers, partners, etc.) and, by so doing, can constantly be changed. The change is perceived as stability while inflexibility and gridlock are perceived as threats to the system. This imposes quite new requirements for transformability in management. Thus, we increasingly need Managers who can respond to a collective value system independently, but nonetheless entrepreneurially. Change management must be reinforced as being a basic competence amongst all Managers. The deployment of an already-existing number of change agents or, as oftentimes at agile companies, agile coaches, is not sufficient or even purposeful.
We must reconceive our organisations. The framework conditions are currently changing from one day to the next. During these times, only the companies will survive which are strong enough to withstand these dynamics – and those are a mere few – or are able to transform themselves in order to be able to quickly adapt to these changes. Thus, we need more courage within the organisational design in order to embark down new paths – and perhaps, during the post-COVID-19 era, we will experience a time in which network organisations finally work correctly – it would indeed be high time for this!
---
If you liked this article, then please comment on our Facebook page and I would be very pleased to receive a "Like".